It's Halloween, yo!
…and it's the final day of the Coffin Hop!  (Booooooo…)

Fear not, though.  Today's prize is a goodie!


This year's Coffin Hop birthed an anthology to be released in 2013, but you lovers of horror, you B-Movie fanatics can pipe up TODAY and win the Limited Edition Collector's EP, featuring a handful of stories by AK Markshall, Jessica McHugh, CW LaSart, Axel Howerton, and YOURS TRULY, naturally! 
Why is this a "Collector's Edition," you ask?  Because the Coffin Hop publisher is not giving tons of them away.  The # is very limited and they will ONLY be distributed to a select few.  YES, in this world of rampant pimping and non-stop hustling, there are STILL a few sweet gems that can't simply be had for a cheap click.
This is one of them!
Here's the nearly-finished cover of the almost-final version, which is in editing/formatting right now, and will also be available in paperback:
(Well, I think that is a draft cover, but that gives you some idea of the cast of characters that you can expect to be involved.)
COFFIN HOP 2013: DEATH BY DRIVE-IN

 is a collection of 22 amazing tales of terror by some of the best and brightest of the Coffin Hop crew. The anthology will be revealed next September, with 22 amazing B-movie inspired stories from some of the best Indie authors around. All profits from the anthology (as well as our Coffin Hop store) will be donated to Reading Tree/ Discover Books

The exclusive Collector's EP features four stories from Amy K. Marshall, Jessica McHugh,C.W. LaSart and the redoubtable Red Tash. 

A strange outbreak in the wilds of Alaska just may spell unexpected doom for the world.

Who are we, really? Where did we come from? And who stole Betty's brain?

Glenda is hot, available, and addicted to Pinterest. She's also totally wild, in the most primal sense of the word. What else could a lonely guy ask for?

Did old Mrs. Danek really see a spaceship? Her doctor questions her sanity, but can he explain her symptoms, or survive the last appointment of the night?

There's also an introduction by Coffin Hop Grand Poobah, Axel Howerton, and a special cliffhanger episode of Robot Lincoln and Zombie Jackson as they face the sinister Dr. Acula and his steam-powered supermen!

How can you purchase yourself this amazing morsel of Halloween confection?

Here's the best part.

You can't.

The special "Collector's EP" of Coffin Hop: Death By Drive-In will only be available, exclusively, and for a very limited time, as a SPECTACULAR one-of-a-kind (alright, 150-ish of a kind) prize during the COFFIN HOP event, running from October 24 – 31 on our member websites.  That means that if you want to be one of the elite, select, miniscule number of fans with a sneak peek at next year's best collection of short horror. You need to get out your best Hoppin' boots, get on down to the bone yard, and do a little dance.
(Hey.  That's the second time I've been called "redoubtable" this week.  Should I be concerned?)
SO, I know what you're asking yourself…besides "What does 'redoubtable' mean, anyway?"  You're asking yourself "HOW DO I ENTER TO WIN THIS RARE GEM OF DRIVE-IN B-MOVIE HORROR?"
My darlings, it's so simple to enter. Comment on my Facebook page and tell me why you'd like to read it.  Mention it by name.  Say it.  You know you wanna.  "I want to read Death by Drive-In because…"  I can only choose one winner.  Do you hear me?  THERE CAN BE ONLY ONE!




You do the begging, demanding, whining, and impertinent snarling, and I'll take care of the rest.

AND HEY!  I hear you like FREE BOOKS!  Well, aren't you a lucky little @#$%?  The Wizard Takes a Fitness Class is free today!  Might be the last time, too.  I have no further plans to make it free, so…*shrug*.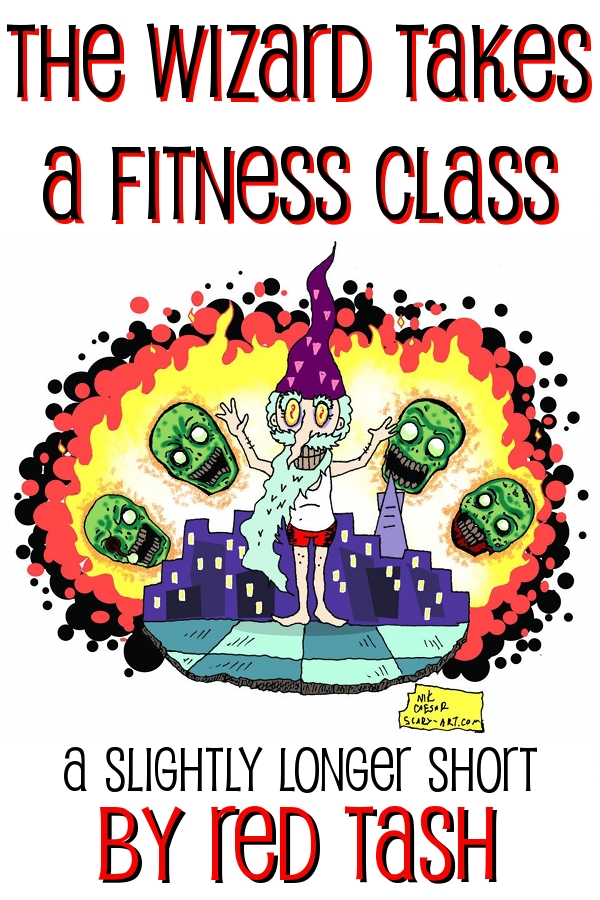 Click here to make it yours.

Yes, those are zombies.  Yes, there is a demon.  Yes, that is a wizard dressed like Richard Simmons.  WHAT ARE YOU WAITING FOR?
Coffin Hop is coming to an end.  This year I gave out free personalized comics, free photoshopped costumes, free awesome business card makeovers, free copies of my best-selling top-rated Dark Fantasy novel Troll Or Derby, a copy of Siren's Call Issue 5 featuring Lucian's First Trick, your own roller derby name, my zombie/demon/wizard story (above), and yesterday I offered afree prize for you fitness buffs: a zombie Rx just for you.  Tell me about your problem zones and I will write you an exercise routine that saves you from yourself, zombie-style!  
And the Coffin Hop gifts just keep coming!  I am also giving away swag!  I have zombies, skull bracelets, skull erasers (which are going to look mega-cool in your school box or office pen mug), bookmarks, pins, badges, and other stuff!  Email me at RedTashBooks@gmail.com and send me your mailing address if you'd like some of my swagger in your mailbox!  Include the word "email list," too.
Seen all there is to see here?  Dive into the rest of the Coffin Hop, my friend.  Dive right into that coffin—just watch your back.  You never know who's waiting to nail 'er shut. 
1 Notes/ Hide
ghostofthewind likes this
redtash posted this