A funny thing happened on the way to the zombitorium
Coffin Hop Day 7!  
I used to hate zombies.  Well, hate is a strong word.  I used to be terrified of them, I guess.  Then a funny thing happened on the way to the zombitorium.  
Between Coffin Hop and The Walking Dead, I think I got over it.  Started playing Plants Vs. Zombies, started laughing at the fake blood and the green skin, and just basically lost all that old fear that used to drive me to look the other way.
So then came the Wizard.  
You know about the Wizard?  (Go on and click him.  He's free.)
In literature, the archetype of the Wise Old Man is often portrayed through a wizard.  
"The wise old man can be a profound philosopher distinguished for wisdom and sound judgment."
Well, he *can* be.  But is he?

I dare say even a Wizard can sometimes be the Fool.   A philosophical fool, but still the fool well into his journey, nonetheless.  If you read Tarot then you realize that the Wise Old Man is simply the fool, less foolish for his age & experience, right?




Okay.

I mentioned zombies in the first Wizard Tale.  It's quick, but the mention is there.  That planted a seed.  When my Coffin Hop buddies and a certain reader got me thinking about other adventures The Wizard might have taken, more zombies cropped up.  Zombies and one hell of a demon.

I was expecting the zombies.  Not the demon.  But demons are like that, aren't they? 

Funny thing about the Wizard in this story—he has the chance to exorcise that demon by, well…exercising with him.  Thus, the Wizard Takes a Fitness Class, which is FREE today and tomorrow, my treat!  (No tricks!)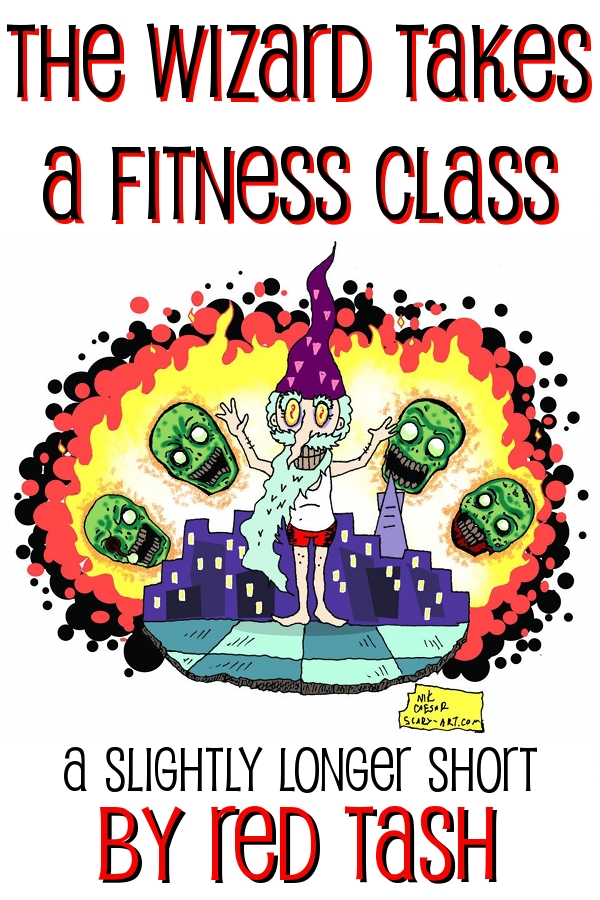 What an excellent, fun, fast and furious little story. Esoteric mixes with exploitation, quirky mixes with crazy. This story has it all: Wizards, warlocks, eleven herbs and spices, kung-fu zombies, transgendered yoga, demons, spirits, and vitamin-enriched post-workout drinks. Everything you'd want in a six-demon bag and MORE! Red Tash is an ace. Pick this up and swig it back. Tasty and refreshing. ~Axel Howerton, Coffin Hop co-founder

'The Wizard Takes A Fitness Class' is a funky, off-beat, quirky tale that I guarantee you aren't expecting! It's bizarre in the best possible way. The story is engaging and amusingly entertaining, and keeps you wondering what could possibly be next. Everyone should get a little physical and twist with this one! Take it out for a spin, and don't forget to bring along your own boom-box toting zombies, wizards, warlocks, voo-doo mamma's, herbalists, and demons! It's great fun with a bit of heart woven into the mix. ~Nina D'Arcangela, Sirens Call Publications

An incredibly fun read. I found the story to be quirky, bizarre (dancing zombies) and most of all, very funny. It's also got a few moments of genuine heart and some very clever ideas (the origins of the Russian language was genius). You might read it quickly, but it'll stay with you once you've finished, and you'll be eager for more.An excellent little story. ~Steve McHugh, Crimes Against Magic

The next Wizard Tale will have a more ferocious zombie in it, if all goes as planned…and a bit more demon-fighting.  It's a flashback tale called The Wizard Takes the Cake and may or may not involve the Witch Doctor of Bora Bora, by reader request.  

I've known since April what the next Wizard Tale would look like, it's just finding the time to write it.  Funny, huh?  Time flies when you're having fun.  Hopefully I'll get the third Wizard tale live before the end of 2012.  It's on my to do list.  I suspect it'll be out early 2013, no later.


In the meantime, if you're also looking for a fun personalized Coffin Hop contest, you've come to the right place!  So far I've given out free personalized comics, free photoshopped costumes, free awesome business card makeovers, free copies of my best-selling top-rated Dark Fantasy novel Troll Or Derby, a copy of Siren's Call Issue 5 featuring Lucian's First Trick, your own roller derby name, and of course, now my zombie/demon/wizard story!

Today's free prize (in addition to Wizard Fitness) is a zombie Rx just for you.  Tell me about your problem zones and I will write you an exercise routine that saves you from yourself, zombie-style!  

To request, I want you to tweet the link to Wizard Fitness from the Amazon page.  Include the hashtags #CoffinHop #free and I will do the rest! 
And the Coffin Hop gifts just keep coming!  I am also giving away swag!  I have zombies, skull bracelets, skull erasers (which are going to look mega-cool in your school box or office pen mug), bookmarks, pins, badges, and other stuff!  Email me at RedTashBooks@gmail.com and send me your mailing address if you'd like some of my swagger in your mailbox!  Include the word "email list," too.
And while we're talking about symbolism, what do you think zombies represent?  How about demons?  Have you given them any thought?  I know what the answer is to me, but I want to hear what you think. 

Done with me?  Hop on to the other blogs of the Coffin Hop for tons of other prizes and horrific goodness! 
1 Notes/ Hide
ghostofthewind likes this
redtash posted this