Halloween All Month, a #WW guest post on Terrific Tuesday!
If you've been paying attention, you know I LOVE me some Halloween.  And some October. And some horror.  And some horror writers.

Here's a guest post from one that truly deserves it.  He's quite good, and exceptionally likable.  Give it up for a guest post by Stoker-listed author Anthony J. Rapino!
Halloween All Month
The thing about time is that it moves fast.  Like really fast.  Like so fast that I could swear yesterday was Labor Day.  But here we are, nearly a week away from Halloween, and I can barely remember where the time went.  That's why once October (my favorite month of the year) arrives, I attempt to employ time-stretching, hour-elongating, minute-manipulating techniques in order to enjoy it the most I can.
My first solution is a common one, come the chilly days of autumn: Horror movie marathons!  It has gotten to the point for me that if I don't watch at least one horror movie a day, each day of October, I'll never get all of the movies in that I want to enjoy.  It used to be that two or three selections the day before Halloween, and a few more on Halloween would do the trick.  But as I get older, the list of must-watch movies gets longer and longer.
There are the Halloween specials: Garfield's Halloween Adventure; It's the Great Pumpkin, Charlie Brown; Pete and Pete's Halloweenie; and so many more.  Then the Halloween themed movies: Trick 'r Treat, Murder Party, Halloween, The Night of the Demons, and so on.  And we can't forget the straight-up horror movies like Night of the Living Dead, Evil Dead, Dead Alive, and dozens if not hundreds more.  It's a wonder I don't lose all feeling in my legs during these marathons.  
Since some may argue that watching movies actually makes time move faster, why not break up these creepy viewings by decorating your house or apartment—with one time-stretching difference.  Decorate a little each day for the first two weeks of October.  One day put up some fake spider webs.  The next hang lights.  The next day, erect gravestones.  This way you get a little bit of Halloween fun in each day, instead of doing it all at once.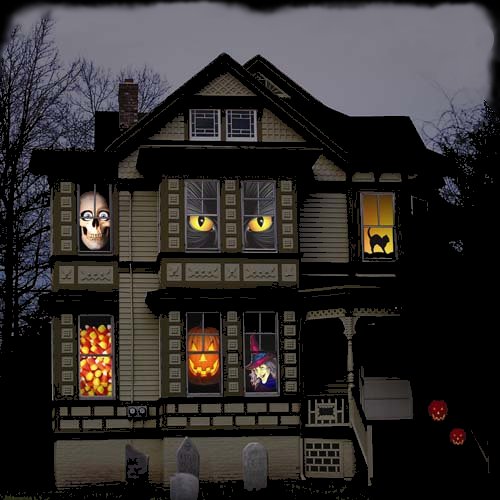 Along these same lines—and probably the best way of getting into the spirit all month long—simply inject daily doses of autumn and Halloween into everything you do.  When you go for a cup of coffee, make it a pumpkin spice latte.  Bake pumpkin and apple pies.  At night have mulled hot cider with whipped cream while you watch It's the Great Pumpkin, Charlie Brown.  Go to a pumpkin patch, pick apples, and go on a zombie walk.  Read some horror novels and drink pumpkin ale.  Have bowls of candy littered around the house.
All of these things and more can bring the spirit of Halloween to your house all month long.  With only one week left, now's the time to really enjoy what autumn has to offer.  And when the big night arrives, make the most of it, because before you know it Christmas will impose its ominous presence and flood the media with its ever-joyous ho ho ho.
Come enter the big Halloween costume contest!  It's free to enter, and you can win a $25 gift card or horror ebook pack.
Stop by the blog tour page for all upcoming dates and more contest info.
Who knew the end could sound so good.
A suicidal nudist strolls into traffic.  An eccentric Buddhist claims he can occupy other people's bodies.  All the while, whispers of a new form of entertainment blow through town.  Prompted by these strange occurrences, Marty Raft, a not-so-gentle giant, investigates and discovers underground clubs peddling music that induces an out-of-body experience.   Marty and a wannabe comedian, Corey, set out to prove these special frequencies are nothing more than a hoax, or at worst, a mass-drugging.  Instead, they uncover a secret with world-ending possibilities.
If you can hear the music, it's already too late.
Author bio
Anthony J. Rapino resides in Northeastern Pennsylvania, somewhere between the concrete of the city and the trees of the forest.  On occasion, you'll find him moderating the feverish battles between the creatures of these two arenas.  Whose side he's on is anyone's guess.
His newest fiction can be found in Black Ink Horror, On Spec, Arcane Anthology, Electric Spec, A cappella Zoo, Space Squid, TQR Stories, and carved inside a variety of autumn gourds.  His short story collection, Welcome to Moon Hill, is currently available, as is his first novel Soundtrack to the End of the World.  Proof of his psychosis can be found on his website: http://www.anthonyjrapino.com