Short Stories & Tall Tales, Books by Red Tash
In Troll Or Derby, fifteen-year-old Roller Deb is singled out by town bullies for both her skates, and for being different. When her popular homecoming queen of a sister is kidnapped by a scuzzy drug dealer, Deb must flee the trailer park in which she's grown up, and rescue her. Along the way, Deb becomes enmeshed in the magical realm of trolls and fairies, and the blood-thirsty version of roller derby at which these beings excel. But spending too much time among the fairies comes with a price. Will Deb choose to save her sister, with the aid of a mysterious troll? Or will she be lost to the lures of roller derby, and the blonde temptress April, forever?

Amazon Kindle, Barnes & Noble Nook, Smashwords, iTunes, & other formats coming soon.  Paperback available, see links here.


"

The way the author weaves fantasy, humor, science fiction, and mystery is, for lack of a better word, brilliant. I read the entire thing with admiration/envy, taking notes and thinking 'THIS is how you write a novel.' Remember when Scream blew the horror world away by actually using technology in a realistic way? Well here's blogging and online forums and long distance cyber friendships, honestly depicting the way we live in the 21st century." ~Poet Christina Grey  

This Brilliant Darkness awaits you on Amazon, iBooks, and at Smashwords.  Now on B&N and Sony, and coming soon to other venues to be announced.  Paperback info here.
 



A well-loved wizard takes a much-needed vacation in rural Indiana, and visits Night of Frights at a small-town drive-in theatre. 

Turns out it's harder to be off the job than he thought.  

Flash fiction, 1500 words.  

Cover painting by Nicolas Caesar. 

The Wizard Takes a Holiday, a free short on Smashwords, and Barnes & Noble, for Nook (free)!  Also free at iBooks/iTunes and at Sony.  NOW FREE on Amazon for Kindle.   
 
 
You asked for more Wizard, and you got it. The mysterious Wizard is back, and this time he's brought his demons—literally. What's this about a nemesis, and a gambling addiction? Can't an old man just grab a cone of Ben & Jerry's without Chinatown's zombies getting in the way? You don't have to be an LGBTQutie-patootie to shake your booty in The Wizard Takes a Fitness Class, but as the Wizard learns, sometimes the best way to exorcise one's demons is to exercise with them. Just ask anyone who's already read the latest wizarding tale—or better yet, read it, yourself. Amazon & Barnes&Noble, Smashwords, and now on Kobo, Nook & iTunes.
 

Episode three of the Wizard Tales.  Who would a Wizard take as his +1 to a wedding, huh?  Find out in the longest, most magical, most wizardly Wizard Tale yet.
Amazon, Smashwords, iTunes, Kobo, more sites soon.
 

The Wizard Tales Vol I-III includes all of the Wizard Tales thus far, plus two bonus wizard-related tales!  Available at Amazon.com and every other ebook outlet I can get it posted.  More Wizard Tales coming soon.
 
 

The Corner Cafè, A Tasty Collection of Short Stories is an anthology set in the mythos of your local coffeeshop.  Includes my story Living Well, set in Christine Grace's Bloomington, Indiana favorite java shack, The Corner.  Follow two FullCon cosplayers on the night of the Star Trails parade, would you?  Proceeds to benefit a literacy charity. Currently for Kindle only, but more formats to come.  15 stories by a selection of authors.

25 Years in the Rearview Mirror: 52 Authors Look Back includes several different sections of retrospection.  Whatever was going on in your life back then, you'll find something in this book to relate to.  Possibly even something inspirational for today's struggles.  This is very much a Chicken Soup for the Soul kinda book.  My piece is titled Weathering the Storm, and it was written in response to the March 2, 2012 tornados in nearby Henryville, Indiana.  Give it a read!  Click the book cover to purchase on Amazon, or find more info here.  Available wherever ebooks are sold.

Let It Snow!  Season's Readings for a Super-Cool Yule!  All profits to Hurricane Sandy relief.  

It's the end of the year as we know it, and you'll be feeling fine as you peruse this collection of "season's readings." 





Let It Snow! is packed to the rafters with thoughtful gifts for you to unwrap from the comfort of your cozy reading chair. After all, there's snowplace like home for the holidays! Are you ready to branch out beyond the tree'd and true? Stay inside and read and you'll be saying "Let It Snow!" 

Ten eclectic stories in off-beat holiday settings: 

A Laurents County Landfill Christmas, by Red Tash; 

Silent Night, by Jack Wallen; 

Crazed in Christmas City, by Jessica McHugh; 

A Manlove & Kickerdick Xmess, by Axel Howerton; 

The Snow Wolf's Gift, by Tim Tash; 

A Serial Killer Christmas, by Mercedes Yardley; 

Old Mexia Christmas Brew, by Claudia Lefeve; 

The Pratty Who Saved Chrissmuss, by Marian Allen;




Believe, by Connie Roberts-Huth; 

Hau'oli Hanukkah by T. Lee Harris


Filthy Cake!  Comic book anthology by Scary-Art.com: Happiest Place on Earth!

The Pit and the Compendium, horror comic collection from Scary-Art.com: Dark Eagle

Steampunk Originals Volume 1 from Arcana: Rule, Britannia!
Allegories of the Tarot, The Hermit, coming in 2013.
Coming soon:
Joan of the A.R.C.
Troll Or Park
That Crackling Silence


Also available:
Edited by Red, written by Tim Tash: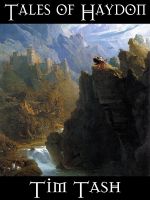 Tales of Haydon, a short story collection.  High fantasy.  Swords, mages, shape shifters, and a hidden city.  Check it out.  The first in a series of planned novels about Haydon.